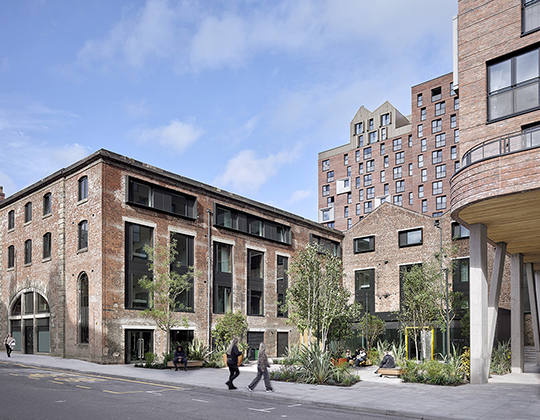 31 Mar 2022 • shedkm
25 years of levelling up
We began our practice in Liverpool 25 years ago. Emerging from the recession of the 1990s, our pragmatic yet bold approach found its perfect application in the urgent requirement for city regeneration.
Our mission back then was to deliver a bold new approach to architecture, which would focus equally on the financial viability of a scheme alongside its potential to generate social value with new opportunities for public realm, community living and quality places to live and work.
Working within extremely tight economic constraints, we delivered some pioneering schemes which did just that and which have stood the test of time, such as Fort Dunlop in Birmingham, Chimney Pot Park and Soapworks in Manchester and Concert Square in Liverpool. Through transformative placemaking, these schemes regenerated redundant and disused industrial buildings and acted as a catalyst for renewal, creativity, civic pride and economic growth.
Ten years ago, we set up an additional studio in London, bringing our approach to schemes in the outer boroughs, where the twin drivers of ambition and land prices demanded new thinking to unlock commercial value. We designed and delivered an award-winning office building in Croydon, a flagship for the regenerative ambition of a wider masterplan. And in Brighton our recently completed Circus Street scheme transformed a derelict fruit and veg market into a vibrant new mixed-use quarter with a purpose-designed cultural building and lush public realm at its centre.
North and south, shedkm has always flexed to adapt to the boom-bust cycle of regeneration and rapid growth, delivering at the nexus of this relationship to balance economic constraint with long-term social value – and always with quality at its heart.
Nobody could have anticipated the combined challenges of recent years – Brexit, pandemic, and climate change – which together have encouraged us to be evermore collaborative, inventive and focussed on sustainable placemaking and well-being. Delivered at the height of the pandemic, our Kampus scheme in Manchester repurposed derelict mill buildings from a bygone age to create affordable, contemporary housing for local people. We also landed our first project in Edinburgh, an opportunity to apply our approach north of the border in an area of the city facing the challenges of new development mediating with historic grain.
Levelling up has always been at the forefront of our agenda, ensuring that delivering commercial value goes hand-in-hand with thoughtful, contextual design which significantly improves lives.
#shedkm25