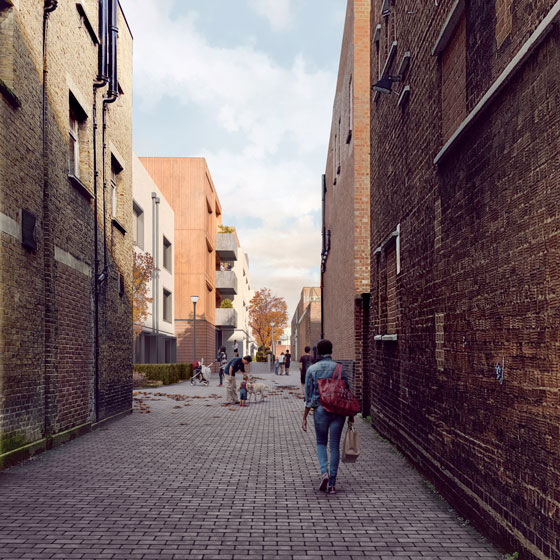 8 Jun 2021 • shedkm
40 zero-carbon council homes in Eltham receive unanimous planning approval
Royal Borough of Greenwich, A&E Elkins and shedkm are delighted to announce that unanimous planning consent has been received for new development of 40 zero-carbon council homes at Orangery Lane in Eltham.
Part of the council's Greenwich Builds programme, which will see 750 homes being built across the borough, the development incorporates a new public square, increased biodiversity, a flexible commercial unit and 73 cycle spaces.
Engagement to take on board the views of local residents and other stakeholders was carried out via an online consultation, with the feedback received being used to inform the final proposal. This process also allowed the council to clarify and respond to questions raised by residents.
The new homes have been designed to be flexible and adaptable to meet a range of needs, with family homes and four apartments for wheelchair users. The high-quality and sustainable development is located in a prime location near Eltham High Street, close to various transport links.
The development at Orangery Lane joins the 302 other Greenwich Builds homes which have received planning approval since the programme was announced, with many schemes now reaching completion.
Cllr Danny Thorpe, Leader of the Royal Borough of Greenwich, said:  "This fantastic development is a great example of the high-quality council homes we're delivering across the borough with our Greenwich Builds programme. The inclusion features like retail space and a new public square show the consideration we're giving to everyone living near our developments, improving the local environment as well as building truly affordable, much-needed council homes for local people."
Royal Borough of Greenwich cabinet member for housing, Anthony Okereke, said: "We're thrilled that our plans for Orangery Lane received unanimous approval, demonstrating the high-quality homes that we're providing through our Greenwich Builds programme. With accommodation ranging from one-bedroom flats to family and wheelchair-accessible homes, this development shows how we're responding to the needs of people on our housing waiting lists. We look forward to seeing local residents moving into this development and the hundreds of other Greenwich Builds homes now approved and under construction across Royal Greenwich."
Alex Flint, Director at shedkm said: "shedkm are very excited to be working with Greenwich Builds and A+E Elkins on this exemplar council housing scheme in Eltham. Through extensive consultation with the local community, stakeholders and the planning department, shedkm have crafted a sensitive and delightful new neighbourhood for future residents, focused on sustainability, well-being and generous outside amenity. shedkm hope to see that No.20 Orangery Lane becomes a beacon of new placemaking in the area whilst providing much needed council homes in the borough."
Ray Elkins, managing director at A&E Elkins added: "A&E Elkins are looking forward to procuring and constructing this much needed council housing for Greenwich Builds using modern methods of construction. Working with Greenwich Builds and our architects shedkm we are looking forward to providing excellently designed, sustainable homes that the people of Eltham will be proud to live in. This exciting development will see the masterplan for Etham Town Centre continue to take shape for generations to come."