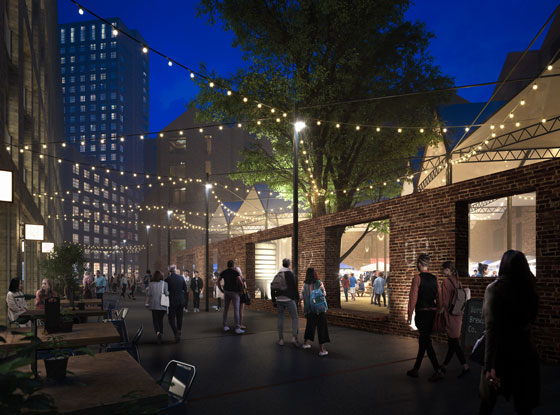 12 Apr 2021 • shedkm
a regenerative adaptation in digbeth transforms an industrial area into a creative new community
shedkm is working with developers Hub on a significant mixed use scheme in Digbeth, Birmingham. The Bordesley Junction masterplan will breathe new life into the city's disused central bus garage site and re-establish an industrious sense of place with a creative environment to attract diverse new talent.
Adjacent the Grand Union Canal, and a short walk from the Bull Ring, the waterside residential-led scheme will create a new eastern gateway to Digbeth and better north/south connectivity, mediating between the area's existing historic conservation area and emerging development being driven by the arrival of HS2.
Many of the area's old warehouse buildings have already been repurposed by creative businesses. Our masterplans will help draw this cultural activity south beyond the Duddeston Viaduct, providing essential scale-up space to support their growth and development within a strong existing community.
Our masterplan takes its cue from the raw ingredients that make Digbeth special: the materials and textures, the existing heritage of the canal-side, and the amazing arches of nearby Liverpool Street. Our ambition is to create a place that is as bold and vibrant as the buildings and population that has existed here since the 18th century. We have broken down a large site into a series of smaller plots to create a more intimate urban grain that opens up to the amenity of the canal. New high-quality homes will sit alongside creative workspaces and leisure facilities, to offer a rich and integrated mix of uses ground in an authentic "Digbethian" landscape. Our design approach focusses on simplicity of form and material expression that stays true to the industrial character of the place, and bold, vibrant colour introduced for signature building elements.
650+
homes
700+
student units
19,490m2
of flexible community and culture, leisure, retail and office uses
>8,000m2
of open space and public realm
Stay up to date with all shedkm updates by subscribing to our quarterly newsletters and monthly bulletins. Sign up here.
CGI by Uniform