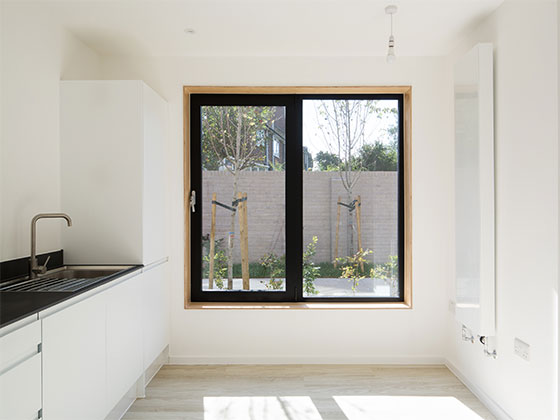 23 Mar 2022 • shedkm
bowness close, greenwich shortlisted for sustainability prize
Bowness Close – part of shedkm's social housing project for the Royal Borough of Greenwich with Elkins Construction – has been shortlisted for the Net-Zero Carbon award at the CE Awards.
Bowness Close is amongst the first homes designed by shedkm for Greenwich Builds, Royal Borough of Greenwich. Bowness Close is comprised of two, 2 bed homes and sits within a larger plan for the council which will see up to 750 homes built for social rent. shedkm have designed over 230 of the target number of homes, which will be located at various sites across the borough.
Bowness Close demonstrates how small, underutilised infill sites can be positively developed providing much needed new homes. The homes utilise MMC volumetric construction and have been developed as part of a Pattern Book of repeated typologies that promotes high quality sustainable homes. The houses at Bowness Close have been developed from a base design and incorporate variations which are responsive to the specific site and planning requirements.
A key aspiration for shedkm was to challenge design stereotypes of socially rented housing, with a focus on the quality and generosity of inside space as well as providing an exemplar of sustainable local authority housing.
Bowness Close sees the delivery of new housing that is an exemplar of sustainable, social housing in terms of both delivery and operation. The homes are designed to achieve net zero carbon and are built using volumetric modular offsite modern methods of manufacture and utilise timber frame construction. Homes are designed and delivered to achieve beyond net-zero carbon targets in both construction and operation, and subsequent energy savings benefitting both tenants and the Borough. Coupled with a fabric first approach the houses include:
Efficient performing fabric beyond the recommendations
Dual aspect rooms to allow passive cooling
Individual high efficiency air source heat pumps to each house
LED lighting throughout
Mechanical ventilation with heat recovery to each house
4kWP Photovoltaic Panels to each house
Additional to the houses, landscape improvements and tree planting have also led to a considerable increase in the biodiversity of the site alongside the integration of sustainable drainage systems within the scheme.