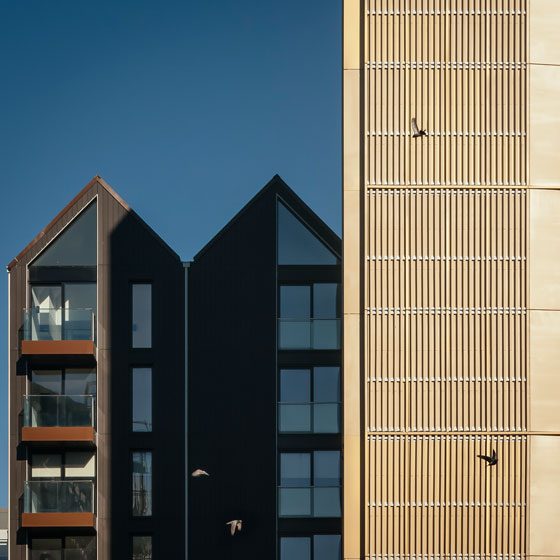 12 Apr 2021 • shedkm
circus street – a bespoke new quarter for brighton and about brighton
Brighton has a rich mix of people, culture and creativity quite unlike anywhere else. Completing this summer, Circus Street is an ambitious mixed-use development inspired by Brighton's unique location and community. We have worked with U+I to regenerate a derelict area of Brighton, masterplanning the scheme, designing each plot from inception, and acting as design guardian through to its completion.
Previously housing a fruit and vegetable market, the Circus Street scheme benchmarks enlightened urban development, creating a sustainable, productive and healthy new neighbourhood which builds on Brighton's existing character to provide a focus for future innovation and creativity. Residential and commercial buildings sit alongside a new cultural building for South East Dance, in a masterplan which priorities public and social realm and the notion of community.
We wanted to create an intimate, permeable and human scaled masterplan that felt as if it had emerged organically from Brighton rather than having been imposed on it, with a tight urban grain inspired by Brighton's original 'laines', dense parcels of agricultural land.
Our approach has prioritised variety, contrast and detail to create a rich yet coherent visual mix. We've adapted some of Brighton's regency elements, to create a visual style that we call 'hyper regency', applying colours and details to signage, thresholds, and elements such as cycle shelters. A considered palette of colours, materials, and textures contributes to a distinctive place identity to inspire those living and working there to contribute to a continuously evolving neighbourhood.
142
homes
450
student units
2,787m2
office space
1,300m2
dance studio
a new home for South East Dance
870m2
of retail space
set within individual units located around the public realm
Stay up to date with all shedkm updates by subscribing to our quarterly newsletters and monthly bulletins. Sign up here.
Photo by Jim Stephenson