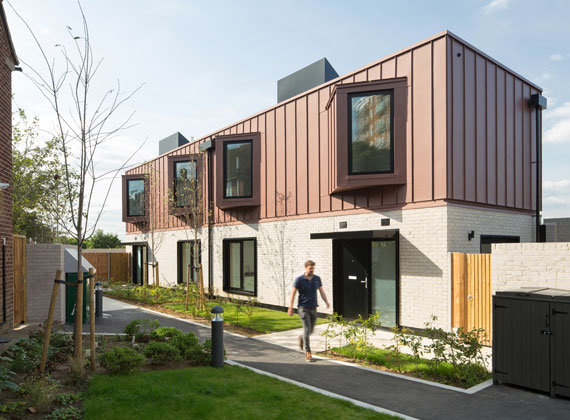 8 Nov 2021 • shedkm
delivering high-quality, low-cost housing at scale
Increasingly, volumetric construction is being championed by government and local authorities for its potential to deliver affordable, low-cost housing at scale and meet national housing targets.
MMC has already proved itself in the private sector where the adaptability of modular design is perfect for creating a range of design-led products for a variety of budgets, including entry level buyers. Increasingly volumetric construction is being championed by Homes England and others for its potential to deliver affordable, low-cost housing at scale.
shedkm is currently working with Greenwich Builds on its ambitious plan to deliver 750 homes over the coming years, as an urgent response to the Borough's housing needs,
We are collaborating closely with Elkins Construction to deliver around 250 of these homes, 100% of which will be designated for social rent and all of which will achieve net zero as a minimum.
To date, sites have ranged from redevelopment of small, underutilised infill sites with proposals for 2 new homes, to larger masterplans consisting of 80 homes in a mixture of family housing and apartments. As a result, we have developed responsive typologies that can be used in a variety of site conditions and contexts whilst still adhering to the principles of standardisation and repetition.
Throughout, shedkm have been committed to not simply improving the quality of individual affordable homes, but to also address complex contextual issues, and improve and repair the existing urban fabric with a strong focus on placemaking and the public realm. In Greenwich, homes are being rolled out on a number of pocket sites and stitched into wider masterplans to create sustainable neighbourhoods, with more play space, animated streets and better community connectivity.
Read more here.
Stay up to date with all shedkm updates by subscribing to our quarterly newsletters and monthly bulletins. Sign up here.
Photo by Agnese Sanvito