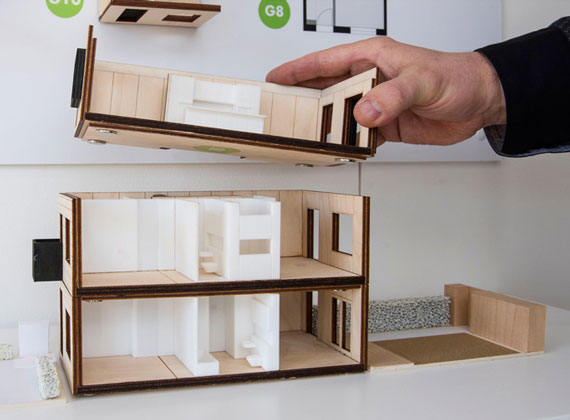 8 Nov 2021 • shedkm
innovation driven by consumer choice
Our ongoing collaboration with Urban Splash on House, a product range which combines the best of modern construction techniques with the familiarity of the Victorian terraced house, demonstrates the potential for MMC to create desirable homes and neighbourhoods.
Despite the simplicity and elements of standardisation which underpin volumetric construction, it is a highly democratic technology which we have shown can still readily respond to context. The principles behind the development of House, take into consideration what is going on at roof and ground levels, as well as materials considerations, resulting in designs which can contribute to streetscape, skyline and wider placemaking.
House is itself a response to a radical notion in housing – the desire to introduce an element of consumer choice. The aspiration to provide greater levels of customisation of layouts and finishes in a house lends itself to the further exploration of MMC for its potential to facilitate the necessarily faster build programmes and reduced lead times.
We continue to develop our House products to introduce further variations which can better respond to context, orientation and environmental performance, whilst still maintaining standardisation and repetition. This might include more varied external material options, or a component-based approach to elevations which allows for standard features such as balconies, sizes of windows and solar shading to be composed in a variety of ways and in different sizes. We are also exploring new house types aimed at different sectors of the market and employing different MMC technologies.
The newest addition to the House family, Row House is making its first appearance at Wirral Waters on Merseyside. In this location it features a distinctive red ribbed metal cladding, a contextual response to the dockside infrastructure. The precision, factory-made Row Houses offer a range of possibilities with homes available in 3 sizes, 10 different internal layouts, and with private terraces and communal gardens, allowing residents to create various streetscapes.
Read more here.
Stay up to date with all shedkm updates by subscribing to our quarterly newsletters and monthly bulletins. Sign up here.