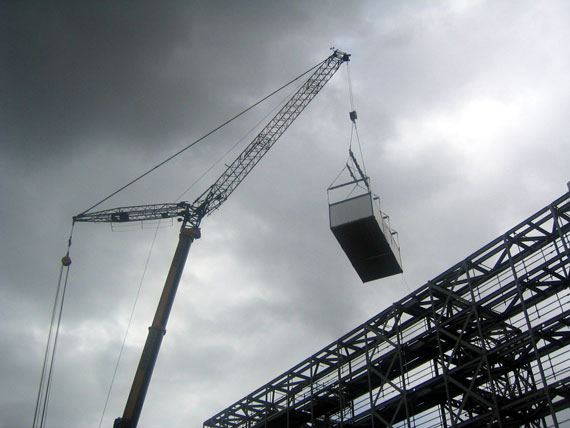 8 Nov 2021 • shedkm
innovation is in shedkm's DNA
shedkm have long been pioneers in the use of modern methods of construction (MMC), but now the twin issues of climate emergency and the need for affordable housing mean there has never been a better time to explore its potential to deliver speed, efficiency, choice and high environmental performance.
For almost 25 years, shedkm has delivered innovation for clients through strategic commercial thinking, a strong design rationale and, increasingly, modern construction methods. Our rigorous approach to design has been easily adaptable to a more modular way of thinking. We consider the potential of MMC from the same rational starting point as for any of our design briefs: how can we offer something different within the client's budget? How can we use technology to achieve a design which adds value and improves the quality of people's lives?
Back in 2005, when modular housing design was still seen as pioneering and potentially risky, our MoHo project was the first pre-fabricated apartment building for private sale in the country to make use of volumetric pre-fabrication technology. Later, our project at Chimney Pot Park turned traditional house layouts upside-down to explore new spatial possibilities for urban terraced housing: a focus on volume rather than rooms which lends itself to flexible contemporary living. In many ways these projects were at the forefront of changing perceptions of modular construction, from something associated with post-war austerity and constraints which might limit architectural ambition, to something which can be much sought after and exemplify the best of contemporary design.
Read more here.
Stay up to date with all shedkm updates by subscribing to our quarterly newsletters and monthly bulletins. Sign up here.