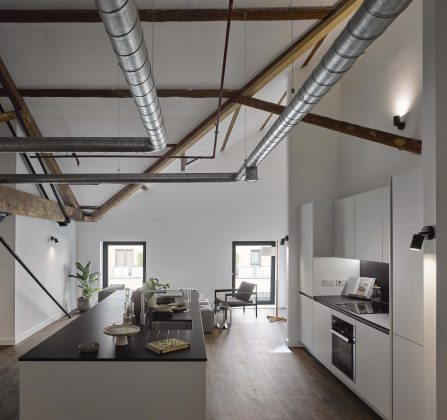 25 Mar 2022 • shedkm
shedkm shortlisted for two housing design awards
Two shedkm developments – social housing for the Royal Borough of Greenwich and the listed buildings for Capital & Centric at Kampus, Manchester – have been shortlisted in the 2022 Housing Design Awards.
Royal Borough of Greenwich Social Housing
This scheme demonstrates how small, underused sites can be successfully transformed to provide much needed high quality, sustainable housing, while addressing the needs and aspirations of the Greenwich Builds programme. Design stereotypes of socially rented housing have been challenged, with a focus on the quality and generosity of inside space. The new homes present a contemporary approach to a traditional mews street and semi-detached typologies whilst utilising offsite manufacturing techniques. Each house balances the private amenity of the new homes with those of the existing neighbours and enhances the sense of place and community of new and existing residents.
After decades of dereliction, shedkm repurposed two Grade-II listed Victorian warehouses in Manchester, to provide much needed city centre housing for rent. The warehouses, Minshull and Minto & Turner, are part of Kampus, a vibrant new residential garden community by developers HBD and Capital & Centric. We sensitively restored the warehouses to preserve the best of their historic features such as the original cast iron columns and brickwork, whilst creating 58 contemporary loft style apartments with access to a range of on-site community amenities including gym, yoga studio, and cinema.

shedkm are proud to be working on these schemes, and many more, in both the south + north. Follow our journey through our 25th year at #shedkm25.