As developers increasingly look to fulfil their ESG objectives, there is a growing focus on the 'S' – the impact of schemes on people, their wellbeing and their ability to thrive in new places and communities. An integral part of placemaking, social sustainability can take many forms from new employment opportunities, to access to nature and healthy lifestyles, to the provision of social amenities which support community cohesion and nurture a sense of belonging. Social sustainability begins with understanding what people need from the places they live and work, and how physical design can provide the infrastructure to support social, cultural and economic life and citizen engagement.
At shedkm we have always acknowledged the role of social sustainability in regeneration, creating vibrant neighbourhoods which put people first. From roof terrace workplace amenity in retrofit developments like Fort Dunlop, (below left image) to the reimagining of back-to-back streets which nurture community in residential projects like Chimney Pot Park (below right image).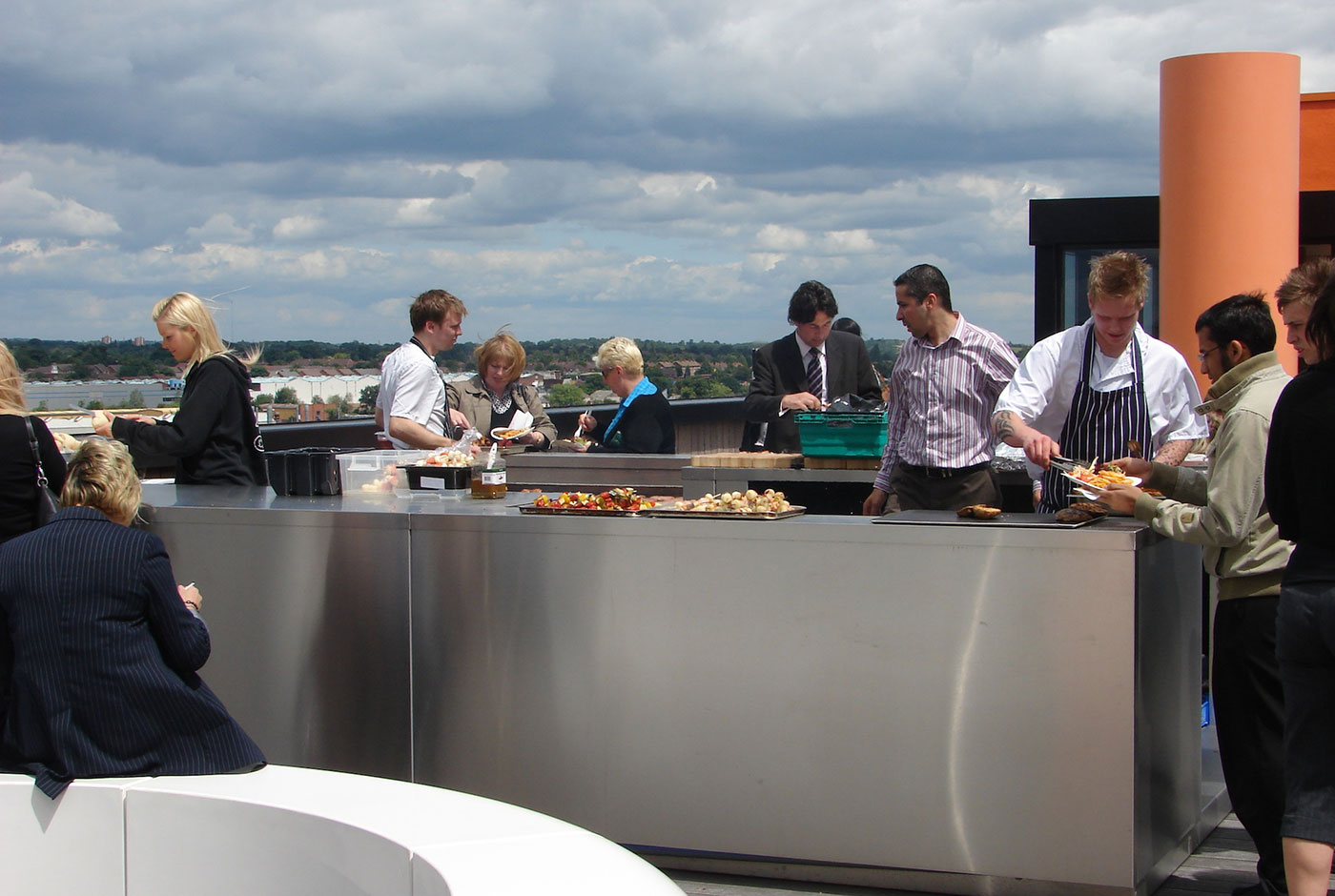 Our current projects, both north and south, continue to bring buildings and spaces back into meaningful use to address the need for long-term social and environmental sustainability.
At Zodiac Court in Croydon, we are working with Common Projects to transform a vacant landmark 1960s brutalist office into much-needed residential apartments. The project has offered a fantastic opportunity to reinvent a neglected, hard-landscaped forecourt and create a genuine community space developed in response to the needs of those who will use it. 'Broad Green Common' (below left image) will be for use by local residents and passers-by, and will continue to evolve in response to the needs of new and growing communities. Once planning is granted, the design will be developed in collaboration with local people and neighbourhood organisations including local grant-making organisation Big Local Broad Green, to decide how the proposed garden and pavilion can best serve its community – whether as a play area, food-growing space or even an outdoor gym. This kind of partnership is critical to the success of major developments, making a positive long-term contribution to the area and empowering the local community to take ownership of the space once complete.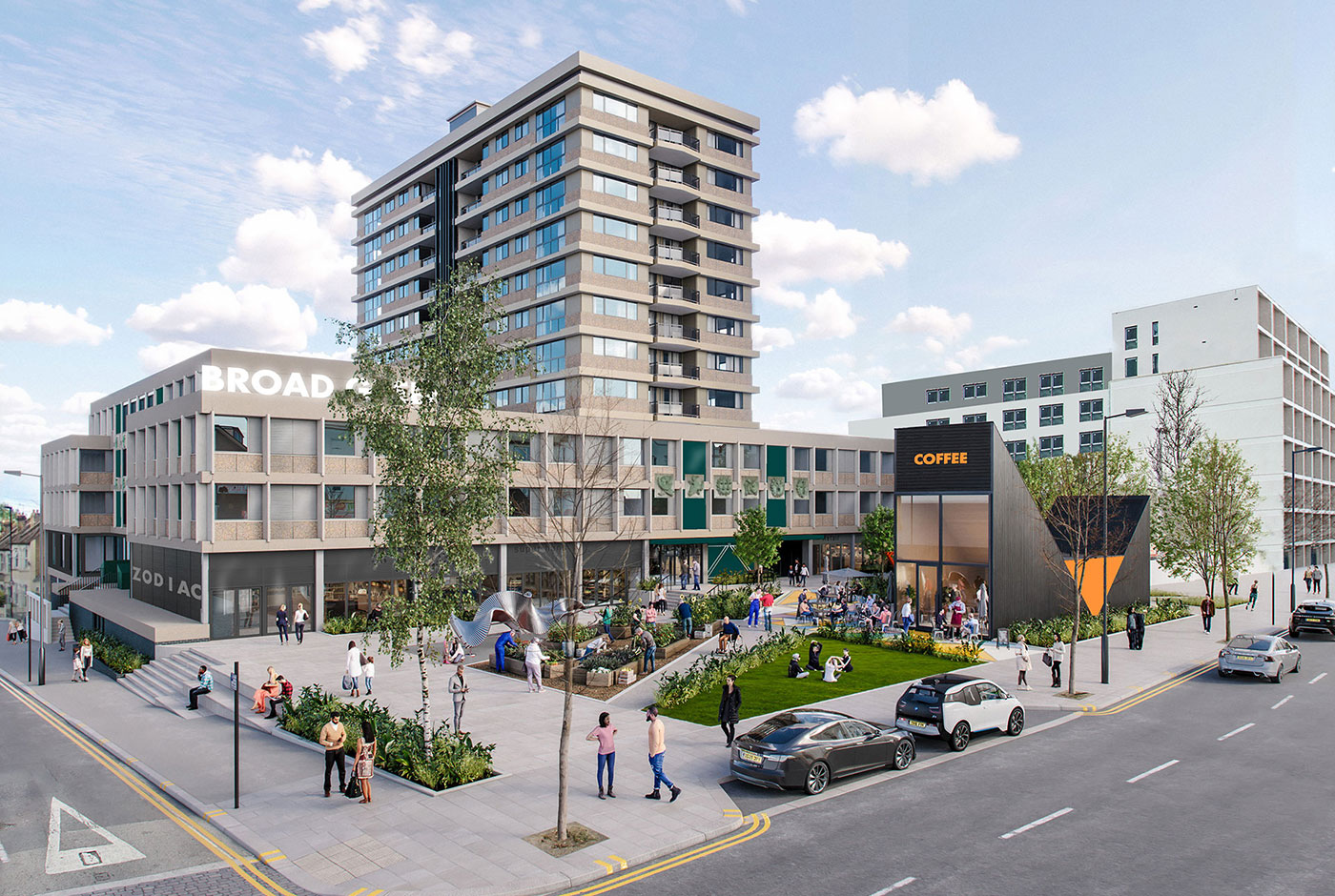 Further north, we continue to build on the lessons of Chimney Pot Park and the Port Loop (main image) development with residential masterplans that make the most of opportunities to create community spaces throughout. On site now, Grove Street in Liverpool is a re-housing scheme where the interests of the existing community are the primary focus in creating new homes. At Redbridge Quay we have been delivering new modular homes in tandem with a new park which will provide the heart and identity for the new family housing that surrounds it, and in Bolton we have recently submitted a new housing scheme 'Neighbourhood' (above right image) for planning. This project for Capital&Centric will be critical in providing essential affordable housing and is a key element of a wider city masterplan. High quality, sustainable homes will be integrated  into a new town centre with green streets and shared public spaces. This will be a blueprint for a new approach to town centre communities with integrated community amenities, facilities and workspaces.
The long term value of social sustainability will be the creation of genuine, well-connected communities and an improvement in their health, well-being and life chances.