This year shedkm are celebrating our 25th birthday. Since setting up our Liverpool studio a quarter of a century ago, we have expanded to London and are a 45 strong practice across the two cities in the north + south.
While the cities we work in, the teams we collaborate with and the challenges we face as a practice have evolved and changed throughout our 25 years, the places, and buildings that we have created continue to be innovative, providing positive regeneration and creating social value up and down the country and beyond. Our distinctive approach to placemaking has resulted in bold, engaging schemes which are both economically and socially transformative.
Our 25th anniversary has provided a timely opportunity to showcase our approach to place in both the north + south, with Circus Street in Brighton picking up the AJ100 Building of the Year and Kampus in Manchester winning the Housing Design Award Winner of Winners. So, what better way than to celebrate these achievements than to take a trip with friends, clients, and collaborators of shedkm to some of our most recently completed schemes in the north + south to see them in action, followed by a chance to share dinner and conversation – something we've not been able to do together since the pandemic began.
First up was a bumper trip to not one, but four schemes in Manchester city centre, each within walking distance of the next – New Islington, Phoenix, Kampus and Crusader. All housing with generous public realm and amenities – the latter three collaborations with Capital&Centric and the former with Urban Splash, developers that share our interest in placemaking, who we have worked with closely throughout our history. A week later we took another group down to Circus Street in Brighton, to see the residential and commercial buildings set within shedkm's masterplan including public realm, events space, landscaping and a performance centre for South East Dance.
new islington
The masterplan for New Islington consists of both our Town House and Mansion House typologies, along the canal and opposite Cotton Field, an idyllic water park. The modular houses came from the Urban Splash factory to be placed amongst a variety of new and retained buildings, landscape, and infrastructure. Town Houses are a mixture of two- and three-storey sizes arranged in short terraces to face onto the canal and to existing and new streets. Mansion House is based on smaller groups of apartments: six, eight or ten, sharing an entrance, stair and lift to create a stronger sense of ownership and counter the anonymity of apartment life, creating a more humane way of high density living.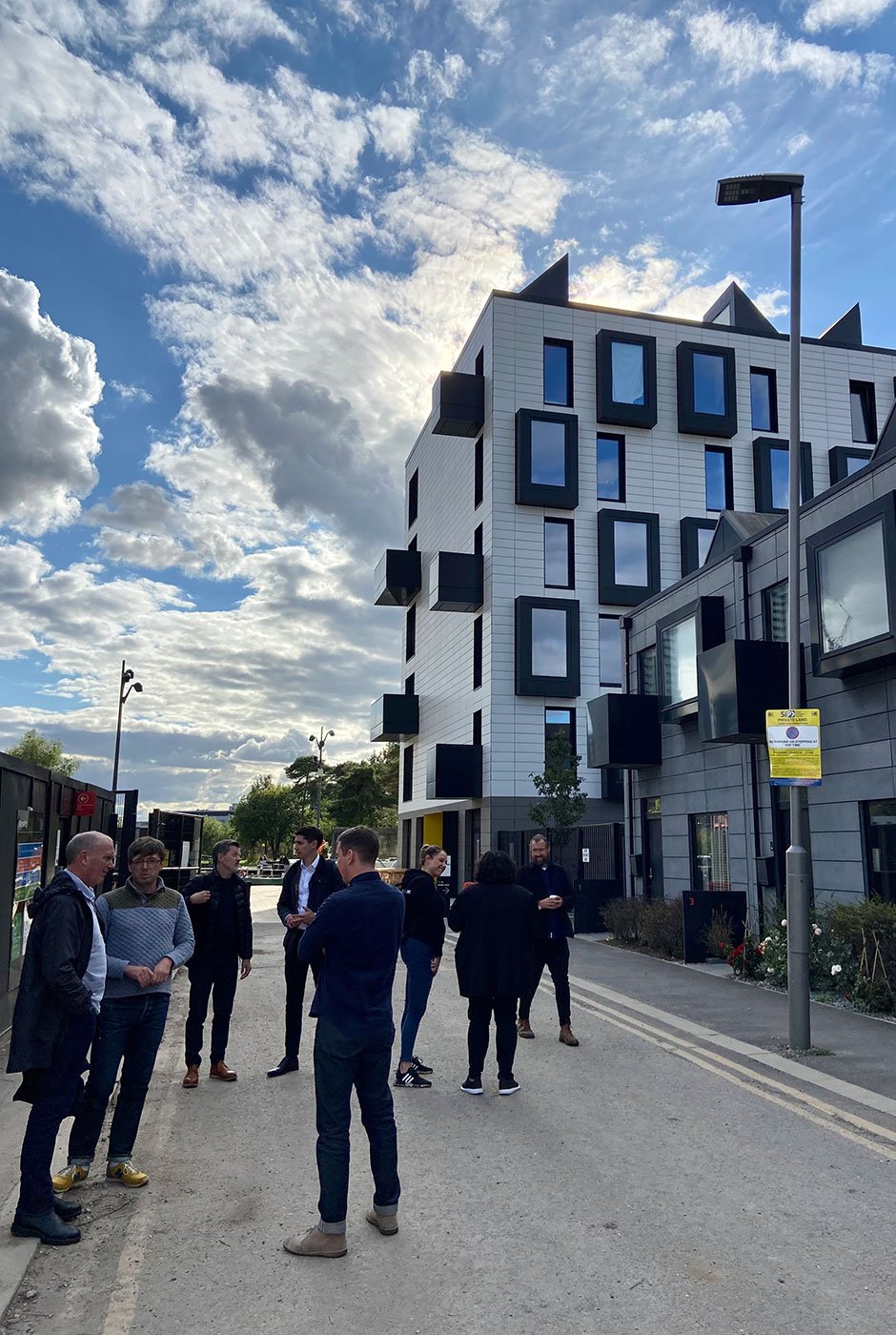 phoenix and crusader
Capital&Centric's design-led vision for Crusader demonstrates a progressive approach to creative conservation, to deliver a unique residential community in the heart of Manchester, alongside the new ten-storey Phoenix building. During the tour we were joined by Capital&Centric's Head of Sales Liz Kenworthy, whose understanding of Manchester's rental and sales market gave crucial insight into the differing needs and desires of those living within the parallel communities.
Crusader and Phoenix each provide a choice of lifestyles, balancing heritage with contemporary interventions to create a coherent fusion of old and new. The special architectural interest of Crusader lies in its scale, industrial character and the aesthetic effect of the repetitious bays and windows in its 126 apartments. Phoenix, the new-build element of the development comprises an additional 75 new apartments and extends the range of typologies available across the scheme. Features of Phoenix include exposed steel and pipe work, contrasted with generous modern, design-led interiors.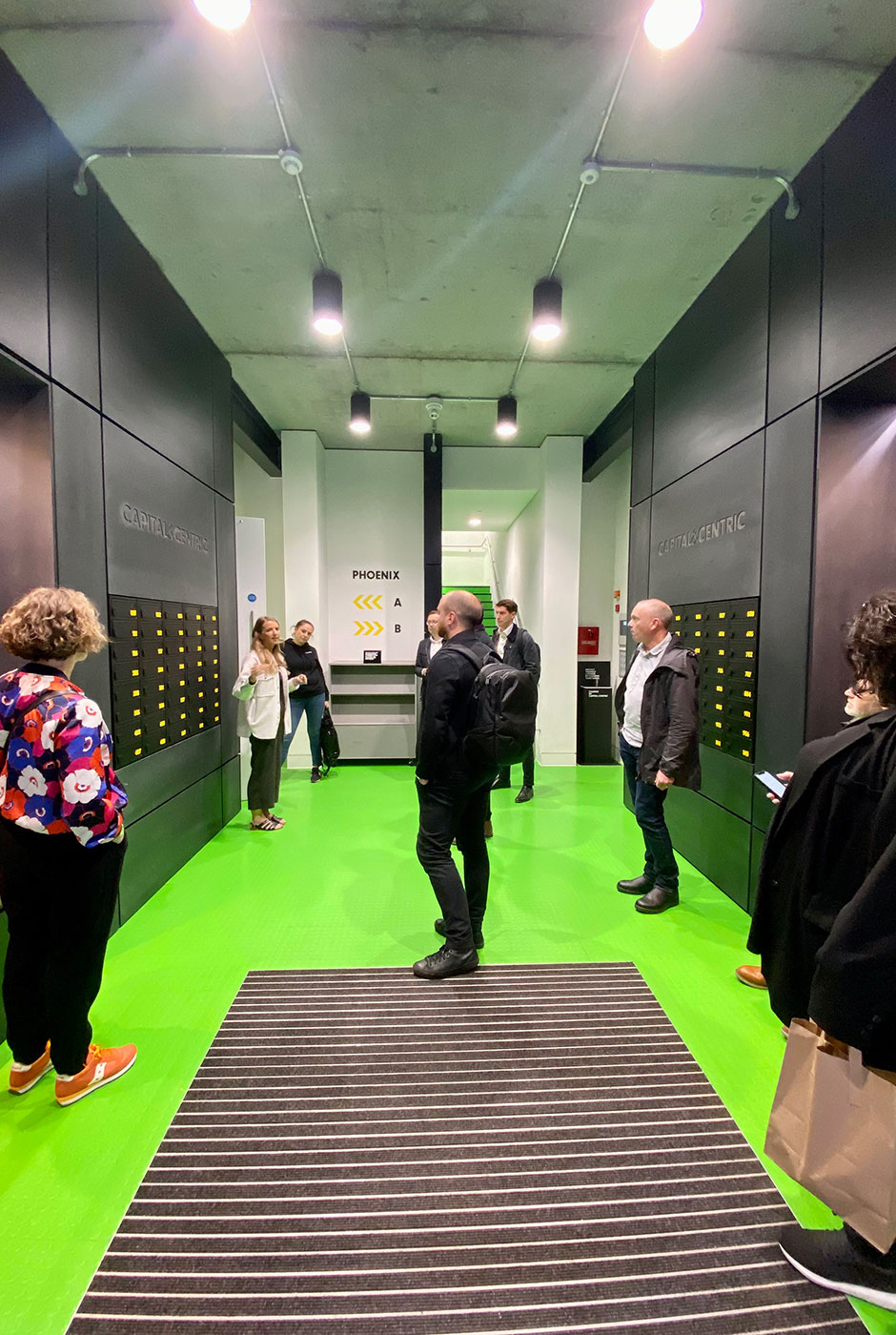 kampus
shedkm repurposed two Grade II Listed Victorian shipping warehouses after decades of dereliction – Minshull Warehouse and Minto & Turner – to provide much needed city centre housing for rent. The sensitively restored warehouses have retained the best of their historic features, such as the original cast iron columns and brickwork, whilst creating 58 contemporary loft style apartments with access to a range of on-site community amenities. As much as possible of the original fabric, structure and features has been retained and restored, celebrating the industrial heritage of the mills from entrance to apartment. Internally apartments also celebrate an industrial aesthetic with exposed brickwork and timber floorboards and high-quality kitchens designed as an 'object within a space'. We were lucky enough to see inside the homes of two residents within Minshull Warehouse, who gave the team a real insight into the community within Kampus – which recently also won a Housing Design Award.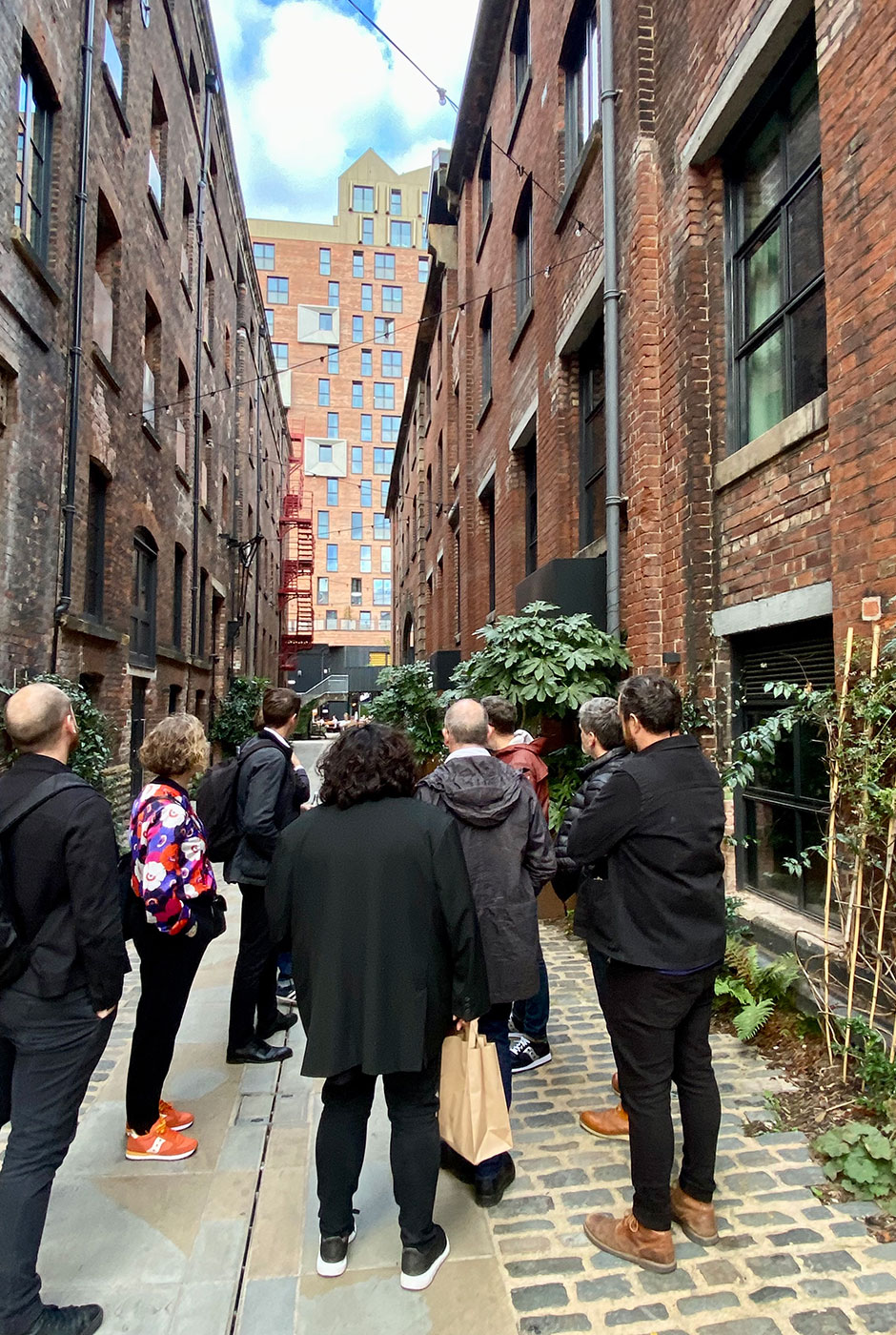 circus street
This bespoke new quarter benchmarks enlightened urban development to create a sustainable and productive new neighbourhood, and a catalyst for future innovation and creativity. Circus Street offers sustainable city-centre living in Brighton with a mix of private residential, affordable and student apartments all designed around two green urban squares. Also within the masterplan is a highly flexible office building with 30,000ft2 of floorspace with affordable managed workspace featuring spectacular sea views. At the heart of the scheme is The Dance Space, purpose built for South East Dance. Cath James, their Artistic Director, joined us to give a full tour of the main studio space, bleacher seating, research and community studio and office, as well as the main dance studio and community spaces connected to a new public outdoor space.